Wind Decom
Recomendations
Read here for recommendations and various case descriptions. At HJHansen Wind Decom, we offer a total solution in dismantling wind turbines and recycling their many resources. We tailor each task to the customer's needs, which you will be able to read from the descriptions below, which range from tasks in large wind farms to smaller household wind turbines.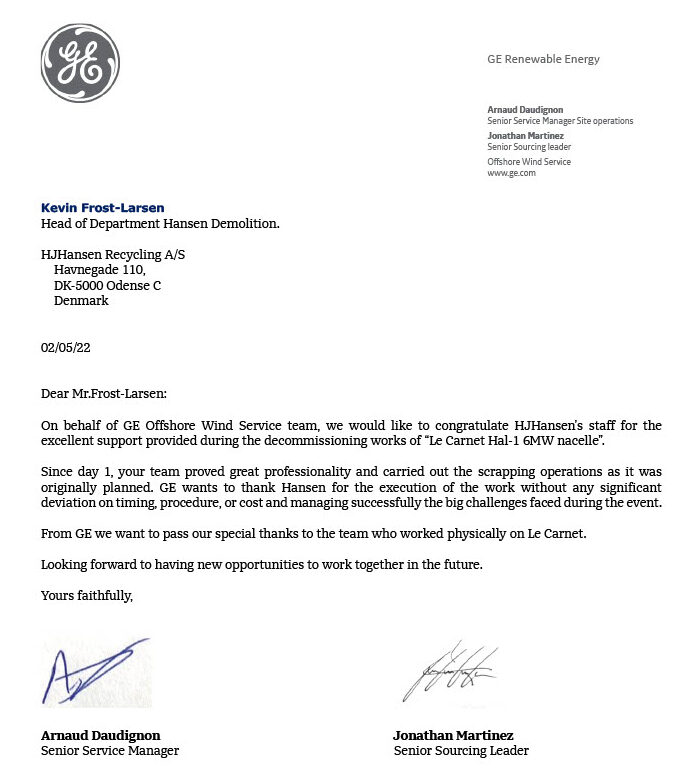 Letter of Recomendation from GE Renewable Energy
"On behalf of GE Offshore Wind Service team, we would like to congratulate HJHansen's staff for the excellent support provided during the decommissioning works of "Le Carnet Hal-1 6MW nacelle".
Since day 1, your team proved great professionality and carried out the scrapping operations as it was originally planned. GE wants to thank Hansen for the execution of the work without any significant deviation on timing, procedure, or cost and managing successfully the big challenges faced during the event.

From GE we want to pass our special thanks to the team who worked physically on Le Carnet.
Looking forward to having new opportunities to work together in the future."
– Senior Service Manager, GE Renewable Energy, Arnaud Daudignon
– Senior Sourcing Leader, GE Renewable Energy, Jonathan Martinez
Testcenter Østerild
"We were asked to help take down a wind turbine at Testcenter Østerild in North Jutland. It was a large, offshore wind turbine with a tower of approx. 80 meters. It stood on top of a 20-meter-high concrete foundation, from which it was jumped.
We cut the tower and nacelle into smaller parts. The concrete was broken down and the iron was sorted out. We sent all materials for recycling. We divided the blades into appropriate container sizes and sent them for recycling, where today they form the filling material in noise walls.
The hole left by the blasted foundation was filled up and the area re-established. The test site was ready for a new wind turbine after two to three months of work."
– Head of HJHansen Demolition, Kevin Frost-Larsen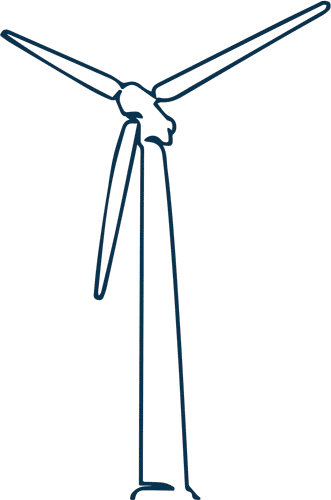 Lattice tower wind turbine on Sejerø
Knud Hammeken's lattice tower wind turbine has been spinning since 1986 on Sejerø, and in autumn 2021, after almost 36 years of service, it had to be dismantled. We sent a group of demolition workers to the island who had it cut down and transported away the same day.
"It only took a few hours for HJHansen Wind Decom to dismantle the wind turbine and transport it away. They offered the best solution and from the beginning, it was clear that they were professional people who knew what they were doing"
– Former wind turbine owner on Sejerø, Knud Hammeken
Damaged wind turbine
"A wind turbine broke down in a wind farm in Sweden, and we were asked to dismantle it completely. The tower, with nacelle and wings on it, had crashed, which made the case very complex. We carried out ongoing risk analyses, as we naturally did not want any accidents. Fortunately, we have a lot of experience with unstable constructions from other demolition tasks.
Besides the unstable construction, the weather was a big challenge because it was -20 degrees and windy, as it often is in an area with wind turbines. Therefore, the machines were frozen in the morning and could not start, as well as a difficult work situation where we stood stiff as ice in a lift to cut down the construction. But we worked our way to the heat, and we got the whole structure down safely.
The project took two men three months."
– Tender manager for HJHansen Demolition, Jes Hansen
Contact us - E-mail or call 
With our extensive know-how, HJHansen can advise you and your company on the best solutions. Contact us and we will give you a tailored offer through a close dialogue.